This is the website of writer Don Kesterson, an Amazon Best Seller.  Don writes espionage thrillers, as well as historical fiction, and even science fiction.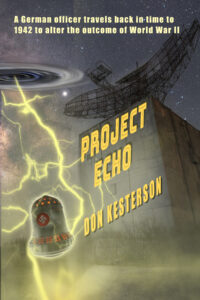 His latest book is called Project Echo, a historical science-fiction thriller set both after and during World War II.
In 1949, Army G2 Captain Jarrett Webber is selected for an above top-secret mission: enter a captured experimental and as-yet-untested German time machine, known as Die Glocke, and travel back to 1942. His assignment: to retrieve German SS Lieutenant Colonel Adolf Eichmann, who has traveled back to 1942 using a second Die Glocke device in an attempt to change the outcome of World War II.
Army G2 intelligence believes Eichmann's mission is to warn Japan of the upcoming Battle of Midway, necessitating the redeployment of US assets from Europe, and buying Germany time to finish their own atomic bomb. Even more sinister, Eichmann intends to accelerate the Holocaust, to complete the Final Solution.
Back in 1949, with the help of the Catholic Church, G2 intelligence is able to monitor Jarrett's progress using the Chronovisor – a device invented by a brilliant Benedictine Monk that allows a viewer to literally see any moment in history.
Eichmann must be returned alive to 1949. Additionally, Jarrett cannot kill anyone for fear of altering the future. Unable to trust anyone, and running out of time, he must overcome insurmountable odds to complete his mission.
Jarrett will do whatever it takes-including sacrificing himself to save the future.
Here you can find news about his novels as well as the author's ongoing blog From the Desk of Don Kesterson.
Don's Gold Series trilogy features his thrillers The President's Gold,  Gold of the Spirits and  Tarnished Gold .
Additionally, he has written the Pawns Trilogy of novels about the Vietnam Conflict, including Pawns: Magic Bullet, the sequel Pawns: Kings in Check, and Pawns: Stalemate.
Ring of Freedom is a historical novel of triumph over adversity as a family of Vietnamese refugees must escape by boat to the United States following the Vietnam conflict.
Chop Stix: Chinese Spies Among Us, features a character from his Gold series, it's a historical espionage thriller about a Chinese spy ring operating inside the United States.
Project Echo, Don's latest book, is a science fiction novel. Lieutenant Colonel Adolf Eichmann travels back in time to change the outcome of World War II.