Tarnished Gold, (the Amazon Link)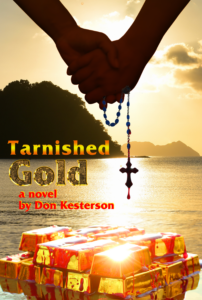 Sub title: The story of the Marcos family downfall and the search for the secrets of the rosaries
The return of Frank Young and Rosalita Laurel and their stories. The novel switches back and forth from their personal struggles to get back control of their own lives.
This novel picks up one month after the end of the President's Gold with Frank Young, the martial artists and the man the U.S. Government sent to spy on then Philippine President Ferdinand Marcos, recovering at his home in Atlanta. He is determined to distance himself from his lost gold, Marcos, the Philippines and the betrayal of the woman he loved, Rosalita.  Yet Santa Romana or Father Antonio Diaz's riddle, the haunting words, behind his mother's rosary is in the back of his mind. And what about the other rosary? Still, Frank only wants to do is get his martial arts dojo up and running. Despite Frank's efforts to steer clear of Marcos, he learns that neither Marcos nor Fabian Ver, Marcos top enforcer, have not forgotten him.
Meanwhile, Rosalita forces herself to work with Ferdinand and Imelda Marcos seeking to get control of her own mother, control of the finances the Marcos have promised her years ago and most importantly her own personal life. It is her only chance to achieve the wealth she has always coveted.
Frank is constantly approached by individuals seeking to recover their treasures and gold, which Marcos has stolen. Despite their efforts and offers, Frank resists and lands a good engineering job in Atlanta all the while continuing to build his successful martial arts business. Then his help is requested by a priest who claims he was sent by Father Antonio Diaz, who has been dead for over a decade. Again, Frank resists the temptation.
Rosalita is asked by Marcos to conduct some of his secret business deals around the world, which draws the watchful eyes of various U.S. Government agencies.  After the death of Ferdinand Marcos, her role with the Marcos family increases to assisting Marcos lawyers with documentation needed in various lawsuits brought against the Marcos family. She too is confronted by the same priest seeking her help but she has no time for the him.
The mystery held by Frank's mother's rosary continues to gnaw at him. Ultimately, he makes several trips to the Philippines to try to unravel the rosary's riddle and the Santa Romana family, which leads to a series of event that pulls him into the Yamashita's Gold, trying to help a Rogelio Roxas recover his Golden Buddha.  After Roxas suspicious death, Frank agrees to assist Roxas's family, as an expert court witness in their fight against the Marcos family. There he comes face to face with Rosalita.
With all the key parties in the same place, once again, that same priest shows up at the trial, which leads to more intricate, dangerous riddles of the rosaries.