On Sunday, September 2, 1945, the Japanese Government formally surrendered on the deck of the U.S.S. Missouri. The United States was represented by General Douglas MacArthur, while the Japanese government was represented by Japanese Foreign Minister Mamoru Shigemitsu, and their military was represented by General Yoshijiro Umezu.
Over the final months of World War II, President Truman decided to follow Roosevelt's plan for reclaiming the defeated Axis Powers, which included sending General Douglas MacArthur to Japan to oversee all developments. This was a difficult decision for Truman, because he had a deep personal dislike for MacArthur. However, Truman believed MacArthur's selection to be the Supreme Commander of Allied Powers (SCAP) of Japan would be widely accepted in the US, due to his popularity. Therefore, with MacArthur in place, he took a hands-off approach regarding decisions in Japan. The real story was that Truman had as much as he could handle with Europe and the Soviet Union. This action was paramount, as one of Truman's most important accomplishments was keeping the Soviet Communists out of Japan, which was an everlasting benefit to Japan and the world.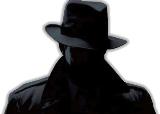 At the Potsdam Conference, a declaration was signed by President Truman, British Prime Minister Churchill and Chinese President Chiang, below are some of the key points that Japan had to accept:
"The time has come for Japan to decide whether she will continue to be controlled by those self-willed militaristic advisers whose unintelligent calculations have brought the Empire of Japan to the threshold of annihilation, or whether she will follow the path of reason.
"There must be eliminated for all time the authority and influence of those who have deceived and misled the people of Japan into embarking on world conquest, for we insist that a new order of peace, security and justice will be impossible until irresponsible militarism is driven from the world.
"Until such a new order is established and until there is convincing proof that Japan's war-making power is destroyed, points in Japanese territory to be designated by the Allies shall be occupied to secure the achievement of the basic objectives we are here setting forth.
"The Japanese military forces, after being completely disarmed, shall be permitted to return to their homes with the opportunity to lead peaceful and productive lives.
"We do not intend that the Japanese shall be enslaved as a race or destroyed as a nation, but stern justice shall be meted out to all war criminals, including those who have visited cruelties upon our prisoners. The Japanese Government shall remove all obstacles to the revival and strengthening of democratic tendencies among the Japanese people. Freedom of speech, of religion, and of thought, as well as respect for the fundamental human rights shall be established.
"Japan shall be permitted to maintain such industries as will sustain her economy and permit the exaction of just reparations in kind, but not those which would enable her to re-arm for war. To this end, access to, as distinguished from control of, raw materials shall be permitted. Eventual Japanese, participation in world trade relations shall be permitted.
"The occupying forces of the Allies shall be withdrawn from Japan as soon as these objectives have been accomplished and there has been established in accordance with the freely expressed will of the Japanese people a peacefully inclined and responsible government.
"We call upon the government of Japan to proclaim now the unconditional surrender of all."
This quotation come from the Potsdam Conference Declaration and is referenced from the website  http://www.ibiblio.org/pha/war.term/093_03.html
These terms were acknowledged as accepted by the Emperor on behalf of the Japanese Government on August 14, 1945.
On August 30, MacArthur had arrived in Tokyo to begin to set up his occupation staff. MacArthur believed he was an not expert on Japan, so one of the first appointments MacArthur made was Frank Schuler, due to his long-standing knowledge of Japan. Schuler had worked in the U.S. Embassy before World War II, and then during the war, he served as a spy in the country. He probably had as much working knowledge of the Japanese as anyone on MacArthur's staff. However, MacArthur relied heavily upon the advice of his Chief of Intelligence, Major General Charles A. Willoughby, who helped design the occupation plan, with the centerpiece of keeping the emperor in place.
Also on MacArthur's team were Lieutenant General Robert Eichelberger and Brigadier General Courtney Whitney. Whitney was a lawyer and prepared most of the documentation for MacArthur to execute. Eichelberger was to be in charge of the Eighth Army and supervise the non-political occupation of Japan. MacArthur did not allow the Army's Office of Strategic Services (OSS) to be involved in his operation; Willoughby was a one-man intelligence team. Although he was knowledgeable of the military conflict, he was not very well connected, thus he could not provide valuable intelligence. An example of this poor intelligence, MacArthur believed that Hirohito was so removed from society that he never used a telephone or delivered a public speech. It is my opinion that MacArthur never wanted the involvement of the Army's OSS, and this was due to infiltration of communists within the highest levels of the OSS organization, and MacArthur—a control freak—could not control these individuals.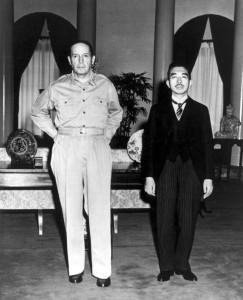 The historic meeting between Hirohito and MacArthur came on the morning of September 27. Hirohito was dressed in striped trousers and a morning coat when he reluctantly entered reception room at the refurbished American Embassy. He handed his top hat to an aide and entered General Douglas MacArthur's office. It was agreed that he should act submissive and humble. Accepting responsibility for the war, he offered to abdicate or do whatever else was necessary, which he did. Yet MacArthur informed him that the United States wanted him to stay in power. If ever a picture was worth a thousand words, it was the image of General MacArthur and Emperor Hirohito standing side by side during their historic first meeting. In it, a casually dressed MacArthur towers over the stiff, formally attired emperor. For millions of Japanese, it brought home in an entirely new way the notion that they had lost the war. Just that day, Hirohito had spent almost three hours discussing his own presentation to MacArthur. MacArthur quickly became very popular with the Japanese people, because the emperor answered to him. Clearly, that picture contributed to the situation.
At the point of surrender, it was up to the Emperor Hirohito and his advisers to keep as much of their Empire as possible, including its political and economic structure. Hirohito believed that, up until the surrender of Germany, they could negotiate to keep the Philippines. On the day, Japan officially surrendered to the United States, the Diet, the Japanese governing body, unofficially ordered that $10 billion US dollars in goods, including banknotes, must be given to key diplomats and elites (essentially their Zabatsu families), to hide from the United States' occupying force. Paramount to all of their efforts was protection of the emperor's family and keeping the war-crime prosecution to a minimum. Concurrently, Secretary of War Stimson, Japanese Ambassador Grew, General MacArthur, and General Marshall had to design a plan to keep the emperor, in order to enable the rapid evolution of the Japanese people and their economy. However, they agreed it must be done in such a way as to give Hirohito concern for his future. It is important to note that the United States position was counter to that of their Allies (the British and Australians), who believe that all Japanese who were responsible for the war, including Hirohito, should be punished. One of MacArthur's main objectives was a peaceful occupation, as they had real concerns about the safety of the US occupying force.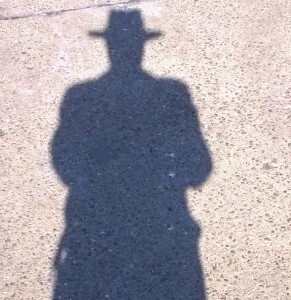 On September 3, 1945, a historical event not readily discussed occurred when Yamashita surrendered in the mountains north of Baguio, Luzon, Philippines, under orders from the Japanese government. General Major A.S. "Jack" Kenworthy of the military police made the official arrest of Yamashita, furnished the security and an escort for him as he went down from Baguio to New Bilibid Prison. While this seems like a mere afterthought on the surface, there is much hidden in the surrender of the last full Japanese army unit. In the time period between the dropping of the two atomic bombs and the official surrender, the Japanese Golden Lily team had substantial amounts of gold still to be buried in the Philippines. It was up to Yamashita to continue his guerilla activity as long as possible, so that the gold could be buried. It's important to note that the final burial was achieved just before the Japanese government advised Yamashita he could surrender.
This year, on the seventieth anniversary of such a monumental event, the news cycle was complete quiet. Why is that? Do you believe, as I do, that these largely unknown historic truths about the Japanese surrender should be discussed openly, even taught in our universities as part of our world's history? Ask a friend if they're aware of these facts. If not, I encourage you to share this essay with them. Don't let our history be lost, like the stolen war gold still hidden somewhere in the mountains of the Philippines.