On January 8, 2020, the Prometheus Studios, Inc. flew me to Los Angeles to film a segment for their new series, Beyond Oak Island. The series will feature the two brothers who have led the Oak Island dig, it will feature other treasure and gold stories from around the world. On Tuesday of this past week, the episode three of this new series ran on the History Channel, it featured several different topics including a segment I was interviewed for, Yamashita's Gold with a focus on the Golden Buddha recovered by Rogelio Roxas. This episode will re-air on Tuesday at 5PM but will continue to run for several weeks.
I had planned to write a blog about my experience of going to Los Angeles for this filming but the Covid 19 virus hit and the editing and developing of the new series was put on hold. I feared it was going to be canceled altogether. Then one evening several weeks ago, one of my best friend's sent me a text that they had been watching the History Channel and heard my voice on a commercial then looked up and saw me on the screen. I texted him what it was about, as I had stopped making contact with the producer of the show. He said he wasn't certain. So I sent the producer an email and she advised me that the segment was produced and ready but she didn't have a schedule.
Fast forward to this past Tuesday night, December 1. The local high school team that I am a volunteer assistant coach, Chapin High School, won a big game by the time I got home I was wired and couldn't go to sleep. My wife was watching the History Channel, episode three of this new series. It was very interesting about shipwrecks and lost treasure and gold at sea. So at about 10:45 PM, I said "I'm finally tired enough to go to bed but I am enjoying this show about shipwrecks. The next segment of the episode started with the lead with something about Japanese raided gold and treasure and there I was, popping in and out of this segment about Yamashita's Gold, the Golden Buddha and the lawsuit of Rogelio Roxas versus Ferdinand Marcos.
The timing of this episode and that segment could not have been any better as I had just published my last novel in my Gold series, Tarnished Gold, which deals with what happened to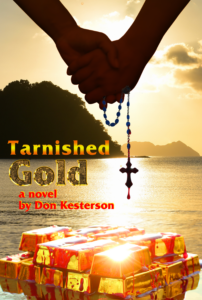 Yamashita's Gold and more particularly, the Golden Buddha.
Hopefully, you all will catch it on the History Channel on either rerun, on demand or stream it over your computer and purchase my novel related to this very subject. Here is the hyperlink