Several weeks ago, Mady Joshi at AllAuthor.com contacted me about doing written interview. Naturally, I agreed. Here is the interview.
Don Kesterson Interview
Published on: 09, May 2022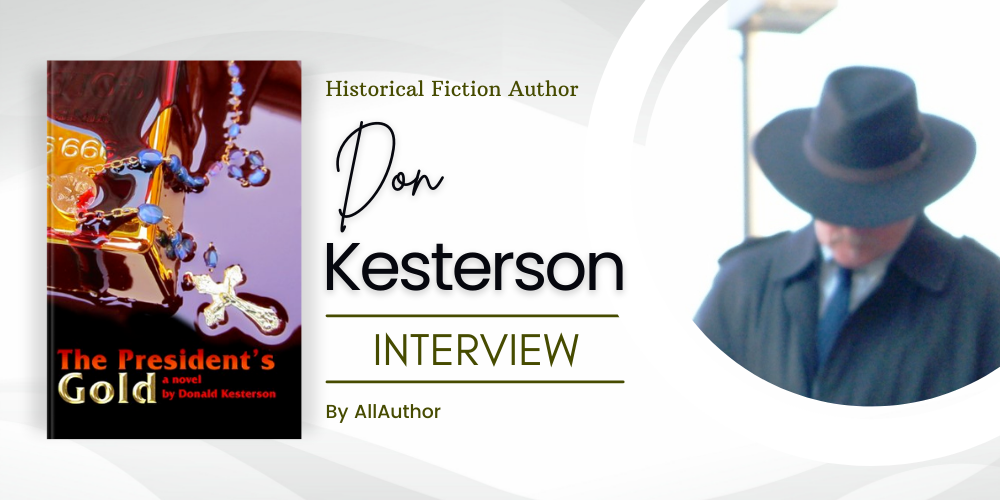 Who was the most influential person to you growing up?
This is a more complicated question, than you would think. I grew up in sports, just about every sport I could think of but two individuals stuck out to me over time, Chicago Bear's running back Gale Sayers because of his quiet, but driven demeanor plus he was a strong Christian. The other athlete was two time gold medal Olympian Edwin Moses, who was undefeated for one-hundred-seven consecutive races covering from September 1977 to June 1987. His consistency of excellent was inspirational. Again, a very quiet but driven athlete.
Did you always want to be a writer?
Not really. During my school years, I was not drawn to reading let alone consider writing. My geology career started my writing career, if you will. Intense research forced me into reading, yet still not drawn to the craft of writing books.
Who introduced you to the world of books?
My mother was an avid reader but that "vaccination" didn't really take in my youth. It took a little longer. In my business there was so much wait time that soon I was carrying books, fiction and non fiction on the job site to kill the waiting time. The first novel that really captured my interests was American Falls by John Calvin Batchelor. He used a very rich style of writing, which began to open my eyes to the power of words.
How and why did you choose the Historical Fiction genre?
It chose me, I didn't choose it. I wrote a very large still unpublished history book. It was part of a very large research project. During that research and writing I discovered many hidden truths. Then upon sitting down with my editor at lunch reviewing one of my chapters. She made the comment that a segment of that particular chapter could be made into a novel. She elaborated a visualization she saw while reading and BOOM. I was intrigued. Shortly after that revelation, I also learned the difference between writing scientific reports and novels were diametrically opposed. It was so much fun writing scenes.
What inspired you to write the novel, Gold of the Spirits?
All my writing, novels or the memoir, are based on a true and accurate historical timeline. This novel was written as a prequel to The President's Gold, which I had planned to be a stand alone novel. While still learning to write, the fun I was having led me to want to write Gold of the Spirits, the prequel to The President's Gold to explain how the gold got in the Philippines.
How did you come up with the story of Chop Stix: Chinese Spies Among Us?
This novel actually evolved from Gold of the Spirits. I sprinkled "several seeds" in that novel from a historical timeline, chasing Chinese spy, that I had always planned to finish. Plus, there was an unfinished confrontation between my protagonist and my antagonist. It all really worked out quite well. Also, the timing was perfect considering the current rate of the United States government uncovering Chinese spies.
Who inspired the character of Frank Young in The President's Gold?
Frank Young is a fictitious representation of my martial arts instructor, many years ago. I respected him so much and sadly have lost touch with him but I wanted to write it as a tribute, in a fictional sort of way. Frank is also the main protagonist in Tarnished Gold, the last novel in the gold series. This saga covers the gold buried in the Philippines during World War II and Philippine President Ferdinand Marcos. Because of my knowledge on the subject of the buried gold, I have appeared on several TV documentaries regarding those related subjects. I should note that I have withheld some of the more dangerous discoveries I have made.
How do you try to keep your stories interesting and from becoming repetitive?
That is easy, find the right elements in history. Make sure they are interesting, exciting and there is a deep hidden background story. I love revealing the background story to the front end story to give the reader real insight into the historical event.
Are you friends with other authors? If so, how have they helped you in your journey as a writer?
Yes, I am a member of the Chapin, SC Writers Group, who have been very inspirational. My wife was a writer before she contracted Multiple Sclerosis. She would have me read her materials prior to submitting. Her dialogue portion to her stories was sensational. She showed me that you can write and let the reader feel like you are in the scene not just reading about it.
What are some of the things you know now that you did not know when you first started writing?
The business side, which despite my day job dealing with business every day. My own writing career began as the internet was taking off. At that time your writing could only be marketed via agents, publishers, bookstores, etc. Breaking into that market was insurmountable and quirky. You had to find agents who sought works that dealt with their interest or strengths. However, this industry has now evolved, if you have your own public relations people, know how to pick the key words you can be successful and not be tied by contracts which more often than not, restricts more than help you.
What is one thing that you, as a fiction author, would never write about?
Another great question. At the moment, I avoid Hallmark style or love themes. It is a great market, don't get me wrong but it is just so far out of my reach and desire, it is just a non-starter.
Have any negative reviews or constructive criticism come your way for Pawns: Magic Bullet? How do you handle it?
No. I actually got a Kirkus review right as I published Pawns: Magic Bullet. They gave me a really good review. As I wanted to make sure this was tight. Plus, I knew any writing that dealt with President Kennedy has always been topical to the general public. I might add, in writing this novel, my historical research revealed a connection I had never seen anyone come up with regarding the assassination of President Kennedy and the ties to the Vietnam Conflict.
What does Don Kesterson's Saturday looks like? What are some things you enjoy doing in your free time?
I don't have free time. I don't like free time. Between my day job as a petroleum geologist, writing, volunteering as a high school basketball coach, distance runner and working out, my days are full. So my work is my free time, what's the saying "if you love what you do, you'll never work a day in your life". I am blessed by God, I love life and what I do every single day.
Which is the next book you are working on? Give us an insight into it.
Currently, I am writing a science fiction novel. It is about a German soldier going back in time to change the outcome of World War II. What is interesting, I'm still following the historically accurate time line, with the added twists of science fiction. Been fun writing.
Where do you see yourself as an author in 10 years time? Are there any goals you hope to accomplish by then?
As long as I can come up with ideas to build a plot around, I intend to keep writing. When I started in the writing business almost thirty years ago, my plan was to write a Southeastern Asia history book. I have had individuals read it, their analysis was anyone going into the diplomatic service in Asia should read it prior to serving in the designated country. I wanted to make money writing and I thought I could with an agent and publisher. As discussed earlier, changes in the writing business no longer a makes that a necessity. Unless you are famous and get a huge signing bonus, you don't make money writing books. Have you noticed everybody is writing a book? Which is fine because only those with a passion to write remain in the industry.
What do you think of AllAuthor? Has this website been helpful to you? What are some things you would change if you could?
The AllAuthor's website has been very helpful. I did a considerable amount of research before I signed up. There are many writer websites out there, so there are many choices. I chose AllAuthor because it was professionally organized, it didn't make any promises of followers and the like. Yet, it provided an excellent market for self-promotion. Plus, it got me this interview, didn't it? I'm not trying to be funny. In the beginning of my writing career I hired someone to teach me about social media, what worked and what didn't. About writing blogs and subject material. Their instruction was keen on what websites to select and what to avoid.