Last year, I was introduced to a story unlike anything I have ever written or contemplated. A friend of mine in Charlotte, Jack (J. C.) Lightner, told me about the family of his wife's colleague who escaped from Communist Vietnam. Naturally, I was intrigued. As some of you know, I have been writing a series on the causes and effects of the Vietnam Conflict. This would be the best example I could've hoped for of the final cause and effect.
Last fall, J. C. introduced me to a family member, Dao Vuong. She gave me an overview of what her family had persevered to come to the United States. I was hooked on the story. When J.C. first discussed the project with me, the patriarch of the family, Dr. Toan Tu Vuong, had written a journal about his life, but it was in Vietnamese and he and his wife lived in New Orleans. We tabled the project until we could find someone to translate his writings. Then, by the grace of God, the family moved to Charlotte, and he translated his own writings to English. Now the project was back on, full speed. Here is the book cover: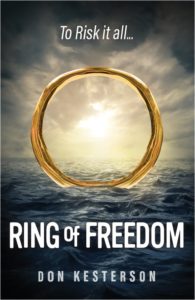 The first of this year, the translated journal was provided to me in a MS Word document. Dr. Vuong's journal covered his life from a young child in Vietnam until late in his professional career in the United States. After discussing with several of my trusted advisors on how to convert a journal to a memoir, I started. As I do when writing historical fiction, I used actual historical events to build the timeline of the story around. To provide different perspective and to add more detail to the story, I interviewed the five adult children as well as Toan's wife Nha-Y, her sister, and a close family friend.
I read the first chapter at my writers group and received some tremendous input. They suggested a radical change to hook you, the reader, on the Vuong's determination to come to the United States.
The memoir begins just before the fall of South Vietnam to the Communists and follows the family—and their personal trials and tribulations—as they arrive in the United States. It continuously shows the sacrifices Toan and Nha-Y made for the betterment of their children.
The end of the book includes biographies of each family members to show that despite the dramatic events they endured (as detailed in the memoir), all of them achieved at the highest levels.
I invite you to pick up this memoir and experience the Vuong family's journey as they come to the United States to be free. A pre-sale will be available soon, and I will keep everyone posted for a release date.