We are both releasing our books on the same day November 19. I can't tell you a thing about her book on the other hand I can tell you a lot about mine: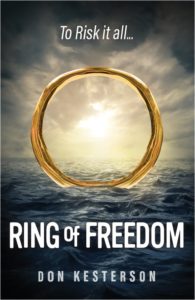 Ring of Freedom is about a Vietnamese family, the Vuongs, risking everything they had to seek the freedom only offered in the United States of America.
According to a report by the United Nations High Commissioner For Refugees, an estimated 250,000 died attempting to escape the communist/socialist Vietnam. My personal opinion that figure is low.
At the time, the Vuong family started their escape they were an affluent Vietnamese family, lead by the patriarch of the family Doctor Toan Tu Vuong. By their final escape attempt, they had to bury money and gold from their in-laws, turn the gold into rings to better hide and sow both the rings and money into their clothing to escape with only the clothes on their back. By this time, everything else had been stolen from them except their desire to be free. Please pick up their story on November 19.